Omar Sharif, the dashing Egyptian-born actor whose remarkable ability
to play larger-than-life characters of numerous nationalities and faiths, died July 10 in Cairo at the age of 83. In November 2005 Sharif was given the first Sergei Eisenstein Medal by the United Nations Educational, Scientific and Cultural Organization (UNESCO) for his many contributions to world cinema.
Born Michel Demitri Chalhoub on April 10, 1932 in the ancient city of Alexandria, his acting surname "Sharif" came from the Arabic term for "noble." Son of a successful exotic timber merchant, the young Omar studied acting at London's fabled Academy of Dramatic Arts. For ten years afterwards, he appeared in a succession of movies produced in Egypt.
Omar Sharif's first English-speaking role was as Sharif Ali in the 1962 epic film ":Lawrence of Arabia" (among Merrick Library's DVDs). It was a role he came close to not playing had it not been that four actors, including French star Alain Delon, were considered "unsuitable" by director David Lean. Alec Guinness, who portrayed Prince Faisal, found Sharif invaluable in learning how to speak with an Arab accent.
Sharif's performance in "Lawrence of Arabia" earned him a
Golden
Globe Award for Best Supporting Actor. Three years later Sharif and director Lean would team again as the former played the title role in "Doctor Zhivago." This time Sharif captured the Golden Globe for Best Actor.
Controversy raged in 1968 when Omar Sharif was cast as the New York Jewish gambler Nicky Armstein in the film version of the musical "Funny Girl" (among Merrick Library's videocassettes) opposite Barbra Streisand as comedy star Fanny Brice. The Egyptian government denounced both of them especially given Streisand's outspoken support of Israel. Responded Streisand: "You think Cairo was upset. You should've seen the letter I got from my Aunt Rose!" Sharif and Streisand would reunite seven years in "Funny Lady" (among Merrick Library's DVDs).
Over his long career Omar Sharif was as well known for his numerous interests outside of show business as he was for his varied roles. One of them was contract bridge. Along with playing in prestigious tournaments Sharif fronted for many years with grand master Charles Goren a nationally syndicated newspaper column on bridge (seen locally in the New York Daily News).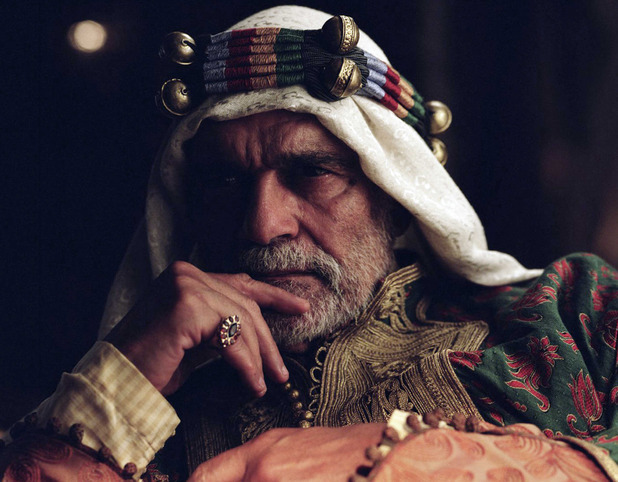 Another interest was horses which tied in to Sharif's role as
breeder Sheikh Riyadh in the 2003 film "Hidalgo." (among Merrick Library's DVDs) His last major triumph on screen was as a Muslim-Turkish merchant who befriends a lonely Jewish boy in Paris in 2004's "Monsieur Ibrahim Et Les Fleurs du Coran" (also among the Merrick Library DVDs). Sharif's work captured for him France's coveted Cesar Award for Best Actor.