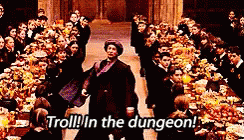 Ever wonder what a troll is? The first I time ever saw this ugly cave-dwelling being was in the children's book Three Billy Goats Gruff Yikes!
The next encounter was in Tolkien's The Hobbit .
In the eighties and nineties their image transformed into cute collectible creatures, which then spurred a cartoon show for kids.
Sadly, there is a new unpleasant version of the troll.
But our friends at TOR put together this nice list of books to give you some original back story.
Enjoy!