Bestselling author Tom Clancy dies at 66.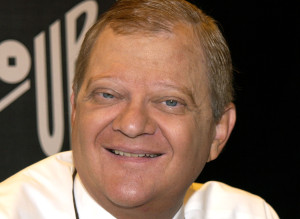 'Bestselling author Tom Clancy died last night in a hospital in Baltimore at the age of 66.
Clancy was born in Baltimore, Maryland on April 12, 1947. He is the author the popular Jack Ryan series, among many others. Many of his novels have been #1 on the New York Times Bestseller list. Three of his books have been adapted for film.
His latest book, "Command Authority," is slated for publication this December." - as reported by The Huffington Post.
The following fiction by Tom Clancy is at Merrick Library:
Tom Clancy's Op-Center (large print)
Tom Clancy's Op-Center: Acts of War (large print)
Tom Clancy's Op-Center Mirror Image (large print)
And the following non-fiction:
Carrier: A Guided Tour of An Aircraft Carrier
Every Man A Tiger: The Gulf War Campaign
Into the Storm: A Study in Command
Shadow Warriors: Inside the Special Forces
Special Forces: A Guided Tour of U.S. Army Special Forces